Alright, so short post today:
I have a puppy on my head. His name is Charlie. Pic included in the post.
So I had a really good day today, and it's amazing to see how one
good
day can balance out so many shitty ones. A week of horrible shit and yesterday put me in this awesome mood.
First: I got a package from one of my very best friends. I was expecting like a letter or one of those little envelope bags so I was so confused when my dad handed me this big box that he said came in the mail.
Among other awesome things, there was Charlie. I've been cuddling him for a while now. He makes me want to get a job even more so that I can send her awesome things because no income means less mail to send :(
Izzy! You're amazing! *hug*
Then my friend Katty came to pick me up and we drove around for a while. It was so fun, I love driving around late at night. (Most of you know, but Kat and I have a friend-with-benifits situation). The best part of the night was when she was home, we started texting back and forth about things we found sexy about each other. I'm not someone who usually feels positively about themselves physically, but those texts made me feel really good about myself.
So yeah, all-in-all I had a good day.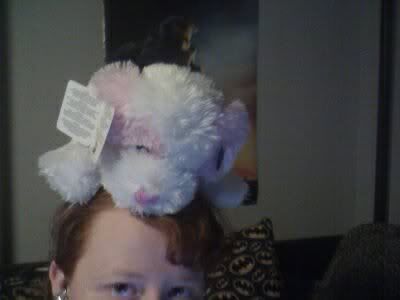 And yes, that's a Halo poster. It looked like Out Of Mind. And yes. That is a gigantic Batman pillow I made. I have the most awesomely nerdy stuff.